Orisa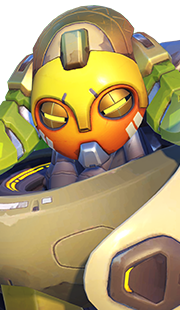 Gerçek Adı: Orisa
Yaş: 1 ay
Boy: Bilinmiyor
Uğraş: Muhafız robot
Operasyon Üsleri: Numbani
Bağlılık: Bilinmiyor
Yakınları: Efi Oladele (yaratıcı, muhafız, akıl hocası)
Sağlık: 200
Zırh: 200
Kalkan: 0
Orisa serves as the central anchor of her team, and defends her teammates from the frontline with a protective barrier. She can attack from long range, fortify her own defenses, launch graviton charges to slow and move enemies, and deploy a Supercharger to boost the damage output of multiple allies at once.
Yetenekler
Orisa's automatic projectile cannon delivers sustained damage, but slows her movement while she fires it.
Kısayol: Sol Tık ya da 
Hasar: 11
Cephane: Şarjör başına 150 mermi
Yeniden Yükleme Süresi: 2.55 saniye
Ateş Oranı: Saniye başına 12.5 atış
Mermi Hızı: 72 m/s
Hareket Hızı: 2.75 m/s (-%30)
Kafadan vurabilir
Reload less often and never reload mid fights
If retreating/running away, do not use Fusion Driver
Orisa launches a graviton charge which she can detonate, slowing nearby enemies and pulling them towards the explosion.
Kısayol: Sağ Tık ya da
Mermi Hızı: 20 m/s
Yarıçap: 7.5 metre yarıçap
Cast Süresi: 0.33 saniye
Süre: 0.45 saniye
Cooldown: 8 saniye
Orisa temporarily reduces damage she takes, and cannot be affected by action-impairing effects.
Kısayol: Sol Shift ya da
Buff: +%50 hasar düşürümü ve CC'ye karşı direnç
Süre: 4 saniye
Cooldown: 10 saniye (ama süre bitene dek cooldown başlamaz)
Orisa throws out a stationary barrier that can protect her and her allies from enemy fire.

Kısayol: E ya da
Bariyer HP: 900
Süre: 20 saniye
Mermi Hızı: 19 m/s
Cooldown: 8 saniye
Genji reflect'leyemez
D.Va matrix'leyemez
Shield dance when in 1:1 scenarios

This means to always keep a shield between you and the enemy

If stuck by a Tracer bomb, walk threw shield and it'll peel the bomb off
Use to prevent enemy healing
On KOTH maps when leaving spawn, throw your shield in the direction of the point
Orisa deploys a device to increase damage by 50% inflicted by allies within its line of sight.
Kısayol: Q ya da
Buff: +%50% AoE Hasar Boost
Yarıçap: 25 m yarıçap
Sağlık: 200 HP
Cast Süresi: 1 saniye
Süre: 15 saniye
50%+ of supercharger model must be visible to receive damage boost
If Orisa is stunned while placing Supercharger, she loses it. Be careful.
Don't place a Supercharger in path of the payload, it disappears underneath it
Place Supercharge behind walls and corners